Part Five: The Title Run In…
At the end of our last piece, our Dnipro side had come away from Anfield with a crushing 5-1 defeat, but restored some glory by beating league rivals Dynamo Kyiv 2-1. Now, with the team going into the second half of the season, we had to improve our squad, continue our fight for the league, and try and regain a little bit of self respect in the UEFA Cup.
Our battle for the title would be a long and hard campaign, and even with the additions made in the winter window, the title race would feature three team (Shakhtar, Dynamo Kyiv and ourselves) until around the very last day.
The New Boys
A healthy budget of £8m was allocated to our transfer kitty, luxurious in the Soviet League (or so I thought until later), giving us some power in the window. We were in desperate need of a good quality Centre Back to compliment our squad, especially after concerning performances from 32 year old Eugene Cheberyachko, indicating the early signs of decline. Goalkeeper Jan Lastuvka had long complained about being homesick, and so when the window opened, we took our opportunity to release the Czech (with no clubs wanting him), promote our young keeper , Olexiy Bashtanenko, and freeing up 2 foreign national slots in our squad. It was impossible to find a quality Soviet Centre Back without paying a small fortune, so our eyes set on the rest of the Socialist camp to find a player who could improve our team.
Polish international Kamil Glik would be our man, arriving from Piast for £3.5m, a big fee, but worth it for a player of his quality. He would arrive shortly after our first signing of the summer, veteran striker, Dimitar Berbatov. Both players hugely improved our team, with results immediately picking up in the January. The final arrival of our window saw young midfielder Nikita Korzun move from Dinamo Minsk for a fee of £1.1m. he will certainly be a player who will come into his own over the next season or so.
Europe and the League
Before our new boys could join us, there was the small matter of the return leg against Liverpool in the UEFA Cup. Our 5-1 thrashing was a seasonal low point, but our 2-1 win over Kyiv had lifted spirits. Unfortunately, a 2-0 loss at home to Zenit would once again call into question our technique, and our methodology. Something wasn't working, and a dip in form for some players didn't help. With the Liverpool game approaching, a switch to our 4-3-3 tactic was introduced, just to try and be more solid at the back and not encourage another demolition by the Merseyside team. An edgy 0-0 played out in the first half, with Liverpool creating more of the chances. We were certainly out of Europe, but perhaps we could nick a victory?
Then in the 47th, Eugene Seleznyov powered in a thumping header from a right hand cross, putting us 1-0 up! Excitement all around, we could beat this Liverpool side… This lead would last 5 minutes, as Daniel Sturridge, the player who had caused so much harm in the first game equalised after beating 2 defenders. It was starting to feel like we were never going to get another chance, until in the 72nd, a clever ball was played through to Konoplyanka, who using his pace, beats his man, putting a fine cross into the box for young right back come right winger Valeriy Luchkevych to bury.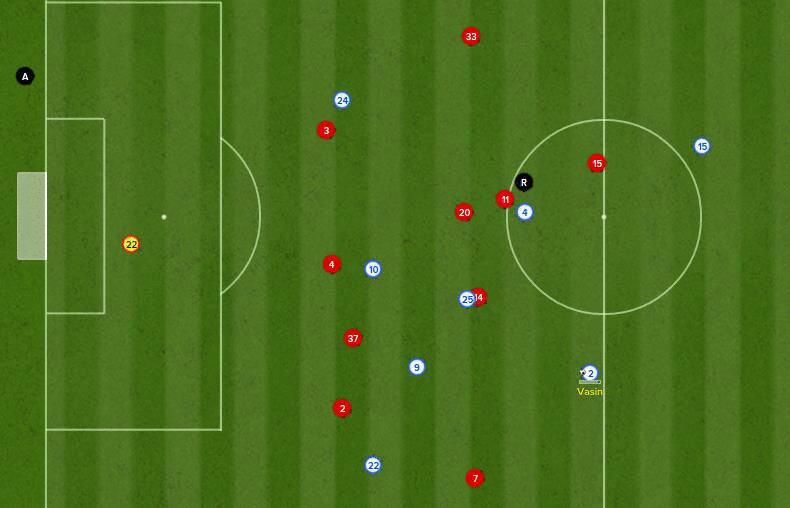 We remain defensively strong, and when the 90 minutes were over, it finished 2-1 to Dnipro. Not enough for us to continue in Europe, but enough to grab a little bit of self respect.
Our new players join us for the remaining domestic campaign, and instantly hit the ground running. Berbatov is lethal up front, his vision, control, and finishing a class above the rest. Glik is also impressive, teaming up with a multitude of defensive partners, but always being convincing in his role. An 8 game unbeaten run occurs, with impressive victories against the likes of CSKA, Krasnodar, and Metalist in the derby, putting us top of the league, but only one point above rivals Shakhtar, and 2 above Kyiv.
It's here where things begin to crumble. I don't know if it's the pressure, or if we were running out of steam, or whether it was the odd situation we found ourselves in where we were playing one game every two weeks, but a run 5 games without a win saw us drastically lose any dominance we had in the league. Annoying defensive mistakes, errors, that all too often would cost us precious points. It was no good, and soon, Kyiv were above us, only just, but enough to secure the title if we didn't pick up results. Amongst this run, a semi final cup defeat to the aforementioned Kyiv would see our only chance of silverware become the title.
Wins were impossible, and with the game against Shakhtar approaching, I feared the worst. The Donetsk team had blown us away in the home fixture, with only a lucky own goal allowing us to share points. Now, a defeat would see us drop as low as third, and with our form, it seemed like a formality. Even a team meeting before hand didn't seem to resolve all the issues, with the players split along lines of agreeing that we must do better, and "we are trying our best".
You'll forgive my surprise then when we walked away as 3-0 winners in the Dombass Arena. Our Dnipro side were on fire, and beat Shakhtar on every stat. Granted, they were without Mhkitaryan, their talisman, but still, a 3-0 win over the enemy effectively ended their hopes of the title. It was now between us an Dynamo.
Our last two games, relegated Rostov away, and relegation battling Terek at home seemed on paper to be good fixtures, but you know what they say about "when you're in a dog fight…". A 1-1 draw away to Rostov saw Dynamo ahead with one point going into the last day. A victory or draw for us, and a Dynamo loss would win us the title…we pushed and pushed and pushed…but Terek, clinging on for their league lives would not budge. Then, the scores from around the grounds flooded in…Dynamo 1-0 CSKA…2-0….3-0…4-0.
The dream was over. And as the 90 minutes ended, and Terek secured their status as a Top tier side, our 0-0 summed up our last few weeks. We'd lost the title, and it was our fault.
The End of the Beginning
Alas, whilst the season may have ended, we planned to "go again". The end of season awards rightly saw Valeriy Luchkevych pick up Young Player of the Season, with Artem Fedetskyi being the Fan's Player of the Year. Our board remained confident in our project, and with a huge war chest allocated, we began to plan ahead for the next season. Our intake of youths had proven fruitful, and our poaching of talented youngsters from smaller academies meant that we were looking strong in terms of squad (more of that in the next update).
Finally, our second placed finish, and Dynamo's victory in the Cup and League meant that we would go into the Cup Winners Cup in the coming season, another European campaign, and an opportunity to make amends for our dramatic exit.
On reflection, the season on a whole had been a success, although to be so close to the title will leave a bitter taste in our mouths. The second year would soon begin, and we would look to go one better, and over take the mighty Dynamo…
But that will be a head of a lot easier with that sort of cash…
---
That sums us up for this edition? Do you feel sorry for us losing out on the title like we did? Can we go one better?
You can as always keep up to date with all things Soviet on twitter, @VRFussball
If you fancy more Soviet action, then head over to Futbolgrad, where our new series with the Soviet National team has just begun.
Thank you once again for your time. See you next time!