Part Four: Forward Comrades!
Part Three saw our Dnipro team sit in 1st place in the Soviet Top League, after going on a brilliant unbeaten streak after an opening day defeat to Dynamo Kyiv. Our Total Football tactic was paying dividends, with Dnipro topping the goals scored tally, and with Euegene Seleznyov being the leagues top scorer. Now, as the games came thick and fast, and with European competitions in mid week racking up the team's air miles, the competition was really on.
Our league form continued to be mainly positive, although a few exhaustive draws slipped into our repertoire, as we drew 1-1 with Metalist in the derby, at home to Spartak Moscow, and at home to Shakhtar. The Shakhtar result was a real shock for me personally as manager. Perhaps it was the early complacency of being the league leaders, but Shakhtar were head and shoulders above anything we had played yet this season. Quick, strong, lethal, the game only finished even because of a last minute own goal in the Donetsk defense. It was shocking to see my team, so dominant in possession and passing, lose the ball easily, and be torn apart by Shakhtar pressing. Much work is needed to be done if we want to reach their standards, and perhaps it is unlucky, rather than bad tactics that Shakhtar are not further up the table, or perhaps it is they lack great squad depth, something which we happen to have.
Never the less, we had picked up points, which continued to allow us to stay on top. Kyiv were equally strong, and often it was our great goal difference that would keep us in 1st at the end of a match day. Distance would be put between us on match day 16, where we would face Kyiv at home. First up there were games against Terek (away) and Rostov (home).
A disappointing performance with rotated saw us struggle to break down 13th placed Terek, even more so after their early goal. Their resilience was our downfall, and after 90 minutes, Terek were the ones to end our unbeaten run.
Rostov would be better, with a rampant 3-0 win for Dnipro, with goals from Fedetskyi and young striker Denys Balanyuk. We had our eyes on the league, and after a midweek European fixture (more on that later), we faced Kyiv.
From the start, we were all over Kyiv, and it was no surprise that on the 7th minute, attacking midfielder Roman Bezus grabbed us the lead. Our positive attacking continued, and we were able to extend our lead in the 21st minute when Artem Fedetskyi slotted home. A Danny goal in the second half made little difference, as despite the even nature of the teams, we were by far the better team on the night. A fantastic result, which opened up a 3 point gap at the top!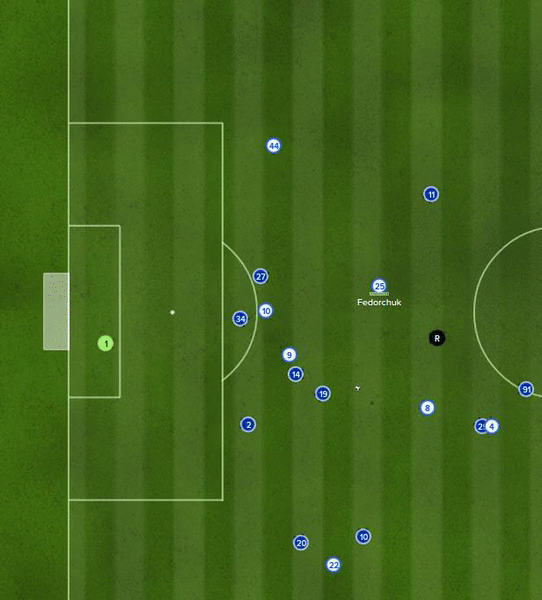 Dnexit?
The UEFA Cup on the other hand is a much tougher contest. Our first round match up against Club Brugge was relatively easy, with a 2-0 win in both legs resulting in a 4-0 win on aggregate for the Soviet side. A much tougher second round fixture saw us drawn against West German side FC Schalke 04. It was the Germans who had the huge journey to the Soviet Union to endure first, and perhaps this played into our hands, as a combative Dnipro side fought tooth and nail to grab a 3-1 win over the side from Gelsenkirchen. The best goal on the night perhaps coming from the returning Roman Zozulya, whose fantastic effort put us 3-0 up at the time. Roman would later go on to tear his knee ligament (again) and be out for a further 2 months.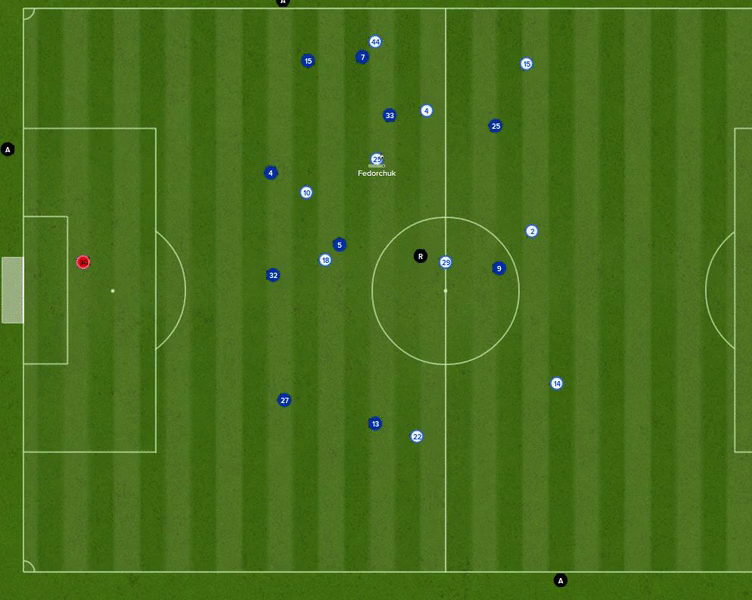 A more difficult match in the return leg saw us go from 1-0 up, to 3-1 down, only to grab a second half goal from Konoplyanka, sealing our victory into the 3rd round of the cup, the boards minimum demand. This would see us drawn against English giants Liverpool, and a real culture shock for our boys. Coming into the game, the media all but predicted a Liverpool romp, and despite my attempts to big us up as resistant under dogs, Liverpool would prove the media right. Nothing else can be said. Liverpool were on fire, and limited us at every opportunity. Our defenders were outclassed as Daniel Sturridge grabbed a hat trick on the night, and despite a Skrtel own goal, we were left deflated as at a 5-1 loss (thankfully, we then went into the Kyiv game and boosted our moral!)
House Keeping
Despite the 5-1 loss, several players have impressed greatly during our last few matches. Top league scorer Seleznyov remains a constant threat in the box, whilst Valeriy Fedorchuk continues to be a wizard in midfield, finding quality passes of varying lengths. A lot needs to be said about Roman Bezus, our attacking midfielder and secondary striker, who has picked up 3 goals in the last few games, and has an average 7.52 rating. Further shout outs must go to Vasin, Fedetskyi, and Konoplyanka, all of whom have proven themselves to be key players in my team. We notice when they don't play.
On the other hand, some players have really disappointed in their performances, with 32 year old Eugene Cheberyachko, and 35 year old Edmar really failing to impress. The former especially has proven to be a liability at the back, and it is my hope to find an alternative first team option when the window opens. The board have granted £8m in funds, an astonishing figure considering the money available in the league, which will go a long way when looking in the market. We will not over spend, and we will not weaken our opponents (as stated in the League Building article), but we will look to improve on what we have, whether that means looking abroad or not.
Finally, back up goalkeeper Jan Lastuvka has disappointed us all by requesting a move, citing "homesickness" as his reasoning. No teams are interested, despite me proposing a free transfer, so this is a story that will play out over time.
New Contracts
The good news is, the board are very happy, and have handed me a contract extension so I can carry on my building of the club. We've also been able to sign Bulgarian Head of Youth Development Mitko Dzhorov, who will be an important part of the club as we attempt to sign young players who will benefit the club in years to come.
---
That rounds us up! What do you think of the season so far? Do you think we can overturn the Liverpool result? And will we maintain our good league form?
As always, you can contact me on twitter @VRFussball! Thanks for your time, and thanks for reading.
A recommendation must go out to the folks at www.futbolgrad.com, whose incredible articles on football in the East are extremely insightful.