Part Three: The Season Begins
It's taken 2 articles and 1 introductory piece, but finally the season has begun in the USSR. In Part Two we had settled on our Cruyff-esque philosophy, and had begun to build the foundations of a footballing academy. We had taken on Olimpic D, SK Sturm Graz and Hannover 96 in preaseason friendlies, all resulting in solid victories. This would be a record we would up hold, playing another 4 matches, featuring notable opponents such as FC Basel (featuring not just Breel Embolo, but Xherdan Shaqiri, Granit Xhaka,  Yann Sommer, Valentin Stocker etc, remember, crazy database!), who would prove to be our toughest opponents.
Still, we were able to come away as 4-2 winners, although the score line perhaps skewers the very even nature of the match. Trips to Czechoslovakia and Bulgaria saw us come away with 3 victories without conceding a goal, although judging the quality of the teams played, perhaps this isn't something to brag about. However, I felt comfortable with the tactic going into match day one of the season, a tough, televised, away trip to bookies (not that the bookies are legal here in the USSR) favourite Dynamo Kyiv.
Are you sure you want to play 343? 
Kyiv are possibly the strongest side in this league, and the potential champions certainly showed their credentials in the opening fixture. A Eugene Seleznyov penalty in the 33rd was not enough, as Kyiv equalised through Danny, before scoring the winner in the 56th minute with Artem Kavets, a player who absolutely torn us to pieces. We were totally out played, and whilst we had more possession, it mattered very little when Kyiv were better in every other category. Alas, 2-1 was not the worst result, especially considering the nature of Kyiv, and I was not ready to throw Cruyffism out, and Pulisim in just yet.
Our opening few match days were set to be tough, firstly with Kyiv, followed by BATE Borisov at home, Zenit Leningrad and CSKA Moscow (the previous Champions) away. I would be looking for a strong response after the loss to Kyiv, and whilst we aren't fully up to speed with my tactical philosophy, I was keen we did not get stuck in mid table early on, and for us to show our attacking intent from the start. It paid off, as BATE were dominated in Dnipropetrovsk 4-0, a penalty in the 3rd minute, scored by Seleznyov, 2 set piece goals from Eugene Cheberyachko and newboy Victor Vasin, and Seleznyov rounding up the game with an acute finish in the 77th. Much better.
Another dominating performance, this time up North in Leningrad, saw us pick up our first away victory of the season, a 2-0 win over Zenit, this time midfielder Roman Bezus and Right Back come right winger Artem Fedetskyi grabbing the goals. What was nice to see is our domination of the game. We were taking shots, hitting the target, and really challenging our opposition, controlling the game. Our crowded midfield was working, reducing Zenit to long balls, which our defensive 3 could pick up with ease. Our 467 completed passes to Zenit's 278 being proof of this.
A deserved 1-1 drawn against champions CSKA, followed by another 4-0 win, this time over Kuban, a 1-0 win (with a rotated team) in the cup against Minnows Shakhter Soligorsk, and another 4-0 win over affiliate club Kaparty would see us not only climb the league, but top it on goal difference. Our ambitions to play attacking football were paying off, and our positive attitude towards games was attracting headlines early on in the season.
The Slamming of the Transfer Window
In this time, the transfer window has "slammed" shut, with Dnipro bringing in 5 new faces, whilst letting 2 go. One thing to mention first and foremost is the crazy nature of the league, which means that 2 yellow cards in different matches means an immediate 1 match ban (this extends to Cup fixtures as well). This is both a blessing and a curse. Obviously, it can mean some pretty disjointed teams, but more importantly, it means that the emphasis is on the quality of the squad, with all players grabbing a considerable number of games. Great for forcing you to play those youth players who require game time to develop!
This meant that the focus of the window for us was to bring squad players in to the team, players who could rotate and play a number of games, but with quality to their playing style, hopefully with potential to grow, and all for very little money.That impossible concoction meant that our searches were instantly narrowed. Antonov and Vasin were already in the team, but a search for another defender proved fruitless, with our first choice, 20 year old Mykyta Burda leaving Kyiv for Zenit, for a large fee! An option for Manchester United defender Paddy McNair on loan was discussed, before being rejected outright (good job, as he picked up an injury laying him off for several months not long after). In the end, I decided to trust in our (relatively weak) youngster Olexiy Larin, in the hope that he could improve somewhat, and make a name for himself (and push for a transfer later on).
Midfielder Artur Ioniță would make the move to us on a free. His  role as a Deep Lying Play maker would be crucial, as he rotates with  club icon Jaba Kankava in the No.4 role, which is so important to our team. Finally, 23 year old midfielder, Spanish born but Soviet national "Eddy" and 18 year old right winger Marjan Shved  were picked up on frees, the mission being to provide them with a footballing education, before offering them out to clubs in a season or two's time (got to improve the quality of the league remember!).
Whilst talking about transfers, I should briefly mention that the loan of Brazilian Anderson Pico was terminated following his request. That's a player off the foreign rule counting, someone I hadn't played at all.
Stand Out Performers
Our first 7 fixtures have seen me become a big fan of 3 players in particular. Of course, the multi talented Eugene Konoplyanka is our star, but it's the performances of striker Euegene Seleznyov, midfielder Valeriy Fedorchuk and defender Victor Vasin that are particularly standing out. Fedorchuk is proving to be instrumental in midfield, with an average rating of 8.17 in the opening fixtures, whilst Vasin is a rock in our 3 man defense. His attributes are misleading, and a 7.80 average rating, 2 goals, including the winner in the cup match (reminiscent of Huth against Bolton in the FA Cup semi a few years back) shows how he is ready and willing to be more than a squad player. As for Seleznyov, his 10 goals in 7 games sees him as league top scorer, blowing away Spartak's Jano, on 4.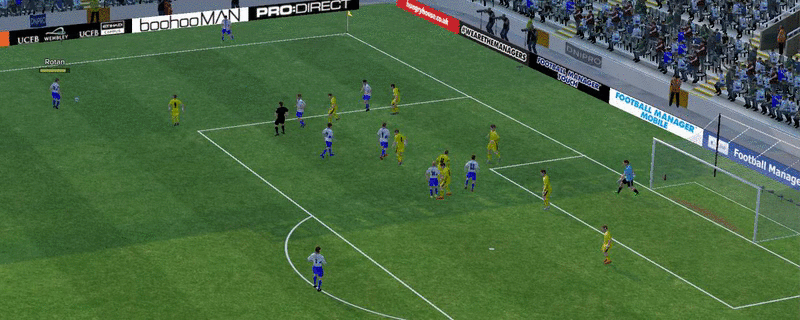 A Mention of Europe
Finally, the old style of European competitions means that the European Cup, UEFA Cup, and Cup Winners Cup are all reinstated, all with knockout rounds from the off. Drawn in the first round, (along with all the big wigs), a visit to Belgium is set, as Dnipro drawn Club Brugge. A tough fixture, with plenty of unknown quantities, but with our ambitions to challenge in Europe, it really is a game we will want to win convincingly.
---
That rounds us up! What do you think of the season so far? Do you think we can go far in the UEFA Cup? And will we maintain our good league form?
As always, you can contact me on twitter @VRFussball! Thanks for your time, and thanks for reading.
A recommendation must go out to the folks at www.futbolgrad.com, whose incredible articles on football in the East are extremely insightful.